Project partners please click here to view the materials.
To Read A Copy of Our Issue Brief, please click the pictures below.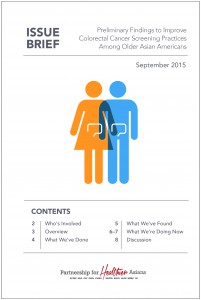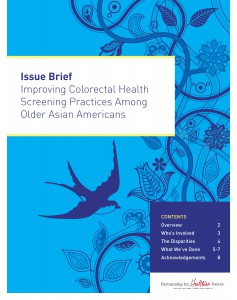 BACKGROUND:There is growing awareness of the gap between knowledge gained from medical research and application of that knowledge in Evidence-Based Practice (EBP) to improve the health of communities. To achieve more widespread adoption, a more collaborative approach to working with different consumers of EBP, including potential recipients, is needed if we are to achieve meaningful population-level change in uptake of EBP. Many of the people who are most at risk of poor health outcomes are members of medically underserved populations. These include individuals of low socioeconomic status, those who possess low level of health literacy, and members of marginalized ethnic and minority groups. EBP is essential in health care and health promotion, since it provides direction and rationale for guiding health behaviors, decision-makings and treatment. We must therefore develop innovative approaches to disseminating EBP among the medically underserved.
TARGET POPULATION: Asian American Communities in Metropolitan Chicago
COLLABORATING PARTNERS:
Alliance for Filipino Immigrant Rights and Empowerment (Filipino)
Cambodian Association of Illinois (Cambodian)
Chinese American Service League (Chinese)
Chinese Mutual Aid Association (Vietnamese)
Hanul Family Alliance (Korean)
Korean American Community Services (Korean)
Lao American Organization of Elgin (Laotian)
Muslim Women Resource Center (South Asian)
Mercy Family Health Center
Blue Cross and Blue Shield of Illinois
Chicago Department of Public Health
INVESTIGATORS:
Office of Community Engagement and Cancer Disparities, University of Chicago (Principle Investigator)
Asian Health Coalition (co-Investigator)
DESCRIPTION:
AHC received catalytic funding support from the Retirement Research Foundation and Chicago Community Trust to implement an innovative demonstration project from 2011 to 2013 aimed at improving colorectal cancer screenings in underserved Asian communities using evidence-based practices. The success of this program subsequently led to the creation of the Partnership for Healthier Asians (PHA) in 2013 through a federally funded grant from the Agency for Health Research and Quality (AHRQ). PHA is a 3-year research program funded from 2013-2016. This is the first study to be conducted in Illinois that uniquely focuses on pan-Asian communities, and looks at understanding approaches that have the potential to improve communication of evidence-based practices (EBP) surrounding colorectal cancer for the underserved Asian American communities in Illinois.
RESEARCH AIMS:
Create a research and dissemination infrastructure to investigate approaches having the potential to aid communication and translation of EBP to the Asian American population.
Assess community partners' interests, capacity and readiness for EBP dissemination.
Pilot and evaluate the market-oriented framework in disseminating EBP health information in different Asian communities.
CONTACT:
For more information please contact Reena Patel at 312.372.7070, ext:221 or reena@asianhealth.org