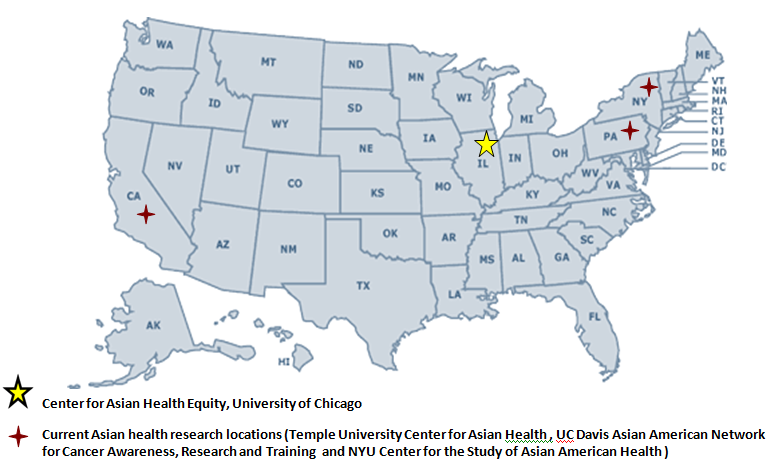 The absence of any Asian health research center in the Midwest to address health inequities, coupled with the highest population growth rate in Illinois and lack of health systems addressing Asian Americans, provides an immediate opportunity to create an infrastructure to close the gaps in biomedical research and basic sciences for Asian Americans.
CAHE's core priorities are focused around the following 4 areas
Community Engagement: We have partnerships with an extensive network of over 25 community-based organizations, local community health centers (CHCs) and several educational and faith-based institutions in the Chicago metropolitan area.
Research: We support existing work and identify new grant opportunities and studies to address disparities among Asian American populations. We also update researchers on new research findings and brainstorm about research directions on Asian American health.
Education & Training: We help enhance the skills of junior researchers and stimulate interest in Asian American health disparities research through lectures and coursework. We also provide students and junior faculty from a wide range of disciplines and diverse backgrounds with the training to conduct innovative, comprehensive, well-designed research studies.
Dissemination & Policy: We aim to help move proven strategies into wide-spread practices as quickly as possible in order to have a positive impact on best practices and policies using data to inform policy through reports and publications.